This post is all about working from home wellbeing tips.
This post may contain affiliate links, which means I'll receive a commission if you purchase through my link at no extra cost. Please read the full disclosure here.
Working from home can be a challenge, especially when it comes to maintaining your mental health. Isolation, stress, and burnout can impact your wellbeing, making it crucial to prioritise self-care.
Here are 11 tips for maintaining your mental health while working from home.
This post is all about working from home wellbeing tips.
Working from home wellbeing tips.
1. Create a dedicated workspace
Set up a comfortable and quiet workspace you can associate with work and use exclusively for work. This will help you focus and reduce stress levels.
I have set up my home office with items that bring me joy and happiness. These include a large tree, two small plants on my desk, a photo of my husband and large wall art of the beach. The beach artwork is therapeutic; it's my favourite place and brings me so much peace.
2. Establish a routine
Develop a daily routine that includes breaks and time for self-care. Stick to the routine as much as possible to maintain stability and control.
I have a dedicated start and finish time for my work day. Even though I could work all hours of the night and day if I wanted to, I only work scheduled hours to keep my mental health in check.
3. Take breaks
Take regular breaks to stretch, move around, and rest your eyes. Breaks can help you maintain focus, improve productivity, and prevent burnout.
4. Stay hydrated
Drink plenty of water to maintain hydration, boost energy levels, and improve mental clarity.
Dehydration can cause fatigue, headaches, and other health problems that impact your mental health.
A good water bottle can help you keep motivated about drinking enough water throughout the day.
The top-rated Contigo Autoseal Water Bottle from Amazon has the following features:
100% SPILL-PROOF WITH AUTOSEAL TECHNOLOGY: Push the button for easy sipping; release for an instant seal and no-spill experience.
VACUUM-INSULATED: Double-wall vacuum-insulated stainless steel keeps drinks cold for 24 hours and hot for 6 hours.
SIP CLEANER: Spout cover helps to protect against dirt and grime.
LOCK IT IN: The button lock ensures the cover doesn't pop up accidentally.
CARRY ON: Integrated handle makes it easier and more comfortable to pick up and go.
5. Exercise regularly
Physical activity is an essential part of mental health care. Exercise can boost mood, reduce stress, and improve cognitive function.
Incorporate exercise into your daily routine, such as walking, practising yoga, or joining the gym.
I found that having a gym membership allows me to get out of the house when working from home. I get to see and socialise with other people, exercise and have a break. It motivates me to return to my home office and enjoy my work.
6. Eat a healthy diet
A balanced and nutritious diet can improve mental health by providing essential nutrients and stabilising blood sugar levels. Avoid unhealthy snacks and focus on fresh fruits, vegetables, lean protein, and whole grains.
I love making green juice daily and having it on my desk. I enjoy all the benefits of eating healthy in a convenient juice. Here is a blog post all about it! Best Juice for Mental Health: Green Juice and Its Amazing Benefits for Your Mind
7. Stay connected
Social support is critical to maintaining good mental health.
Stay connected with colleagues, friends, and family through video calls, social media, or messaging apps.
Join virtual events and webinars to stay engaged with others.
8. Set boundaries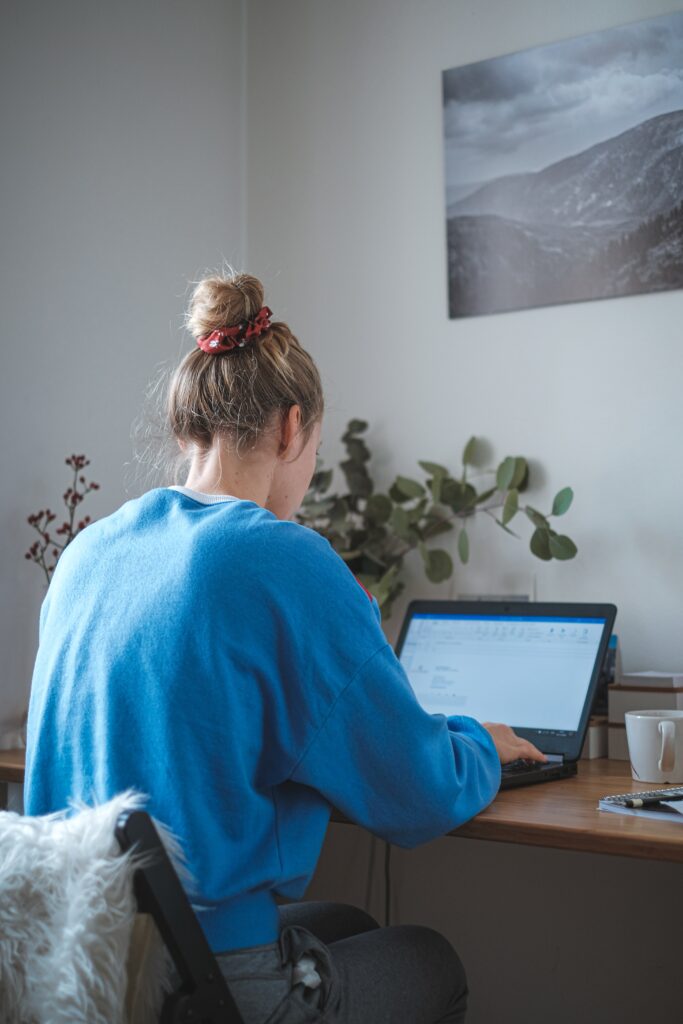 Create boundaries between work and personal time to prevent burnout.
Set working hours, take regular breaks, and avoid checking work-related messages outside of working hours.
I ensure that I do not send emails throughout the night to educate my clients that I have set working hours. This helps me maintain a good workflow and means that I am more productive, especially after a good night of rest.
9. Practice mindfulness
Mindfulness practices such as meditation, yoga, and deep breathing can help reduce stress, anxiety, and depression.
Incorporate mindfulness practices into your daily work from home routine to improve mental health.
If you need help on how to sit quietly and clear your thoughts, here is a blog post I wrote to help with that: Benefits of Sitting Quietly: A Guide to Clearing Your Mind and Emotions
10. Seek support when needed
Don't hesitate to seek professional help if you're struggling with mental health problems.
Many mental health professionals offer teletherapy or virtual appointments, making it easier to access care.
I'd like to share three online therapy options with you that I think you'll really enjoy.
Connecting with a therapist from the comfort of your home can make you feel less isolated and more empowered to overcome your challenges.
Remember, you don't have to go through this alone – help is available, and you deserve to feel happy and fulfilled.
11. Take care of yourself
Self-care is critical to maintaining good mental health. Take time to do things you enjoy, such as reading, listening to music, or taking a hot bath.
Practising self-care can help you reduce stress levels, boost your mood, and improve your mental health.
Working from home can impact your mental health, but following these tips can help you maintain your wellbeing while staying productive. You can thrive while working from home by prioritising self-care and seeking support.
This post was all about working from home wellbeing tips.
Other Posts That You May Like