This post is about ways to improve mental well-being.
This post may contain affiliate links, which means I'll receive a commission if you purchase through my link at no extra cost. Please read the full disclosure here.
We are all searching for a happy and healthier version of ourselves.
We know we can always grow and improve. Our mental well-being is vital in being able to move forward in life. When our mental health is in decline, it can halt our growth and stop us from making decisions about our future, and in turn, cause us to be stagnant and complacent.
Here are 7 insanely good ways to improve your mental well-being. Discover practical strategies I have learned and implemented to enhance mental health. Incorporate these powerful tips into your daily routine for a happier and healthier mind.
Ways To Improve Mental Well-Being
1. Stay Active and Engage in Physical Activities
Regular physical activity releases endorphins, also known as "feel-good" hormones, which can boost mood and reduce stress. Going for a brisk walk or bike ride in your neighbourhood, joining a sports team or participating in recreational activities, and dancing or doing yoga are excellent ways to stay active and improve your mental well-being.
Learn more about the benefits of exercise on mental health here.
2. Practice Mindfulness and Deep Breathing
Calm your mind and reduce anxiety by being mindful and doing deep breathing exercises.


You can do them anywhere; they are free and effective at improving mental strength.


Find a quiet spot, sit comfortably, and focus on your breath. Take slow, deep breaths through your nose and out through your mouth, letting go of distracting thoughts.


Incorporating mindfulness into your daily routine can positively impact your mental well-being.
Explore mindfulness and deep breathing techniques here.
3. Maintain a Healthy Diet
A well-balanced diet with plenty of fruits, vegetables, whole grains, and lean proteins supports optimal brain function and mental well-being.
Include these nutritious foods in your meals and snacks to fuel your body and mind, promoting better overall mental health.
Discover how diet impacts mental well-being here.
4. Nurture Social Connections
Maintaining strong social connections can provide emotional support and reduce feelings of loneliness, contributing to improved mental health.
Spend quality time with your family and friends, join clubs or groups that share your interests, and volunteer for community activities or local charities.
These activities allow you to connect with others and enhance your sense of belonging. Read about the importance of social connections for mental health here.
5. Prioritise Quality Sleep
Getting sufficient and restful sleep is essential for mental and physical well-being.
Establish a consistent bedtime routine that promotes relaxation, creates a calm and comfortable sleep environment, and avoids electronic devices before bed.
Limiting caffeine intake can also help ensure a good night's sleep and improve mental well-being.
Learn more about the significance of quality sleep for mental well-being here.
6. Engage in Creative Activities
Here are some exciting and practical ways you can incorporate creativity into your daily life:
Get artsy: Grab drawing materials, paints, or colouring books and let your imagination run wild. Enjoy the process, and let your creativity flow.


Write it out: Try storytelling, blogging, or journaling. Writing can be a powerful way to get your thoughts out of your head and onto paper. It then frees your mind to think more straightforwardly and be mentally healthy. Your thoughts, emotions, and experiences. Set aside some time each day to write freely, without judgment.


DIY projects: Try some DIY projects that allow you to be creative. I love picking up second-hand furniture and painting it into something new and unique. I can even sell it again and earn some extra money. The DIY projects are not something you have to rush but something you can do in your own time and at your own pace.


Discover photography: You can easily practice on your smartphone o. Just start capturing objects and exciting things you can see in and around you. This doesn't need to be a perfect photo; you are just practising and engaging with your creative side. Take walks in nature, visit local landmarks, or capture candid moments with friends and family.
Remember, the goal is not to be perfect or create masterpieces. It's about finding joy, expressing yourself, and nurturing mental well-being through creative outlets. So, pick an activity that resonates with you, start today, and let your imagination soar!
Discover the therapeutic benefits of engaging in creative activities here.
7. Seek Professional Help if Needed
Don't be afraid to speak to a licenced therapist. A counsellor, a psychologist or even your GP can be helpful people to talk to about your mental health concerns.
They are professionals at helping people like you examine their thoughts and find ways out of the black hole of depression and the stress of anxiety.
If you struggle with persistent anxiety, depression, or other mental health concerns, seeking professional help is essential.
Visit betterhelp.com to find a therapist or counsellor near you.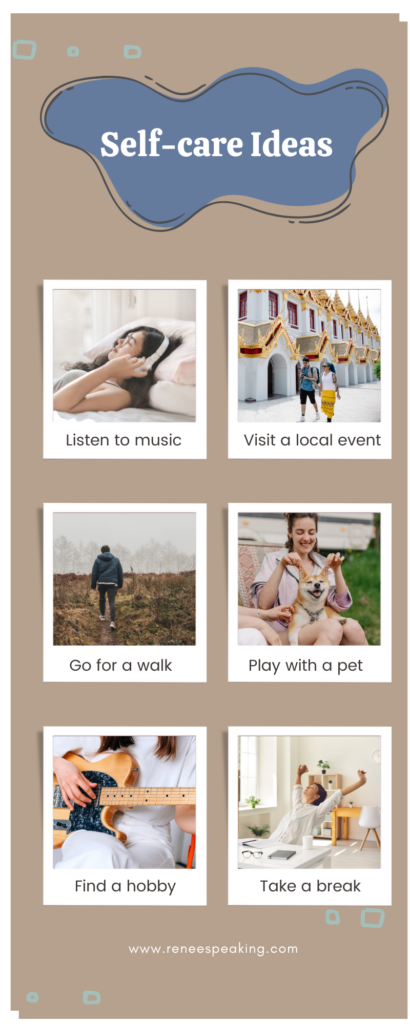 Final Thoughts
Improving mental well-being doesn't have to be complicated. You can enhance your overall mental health by incorporating these seven simple strategies into your daily routine. Remember, caring for your mental well-being is continuous, so be patient and consistent.
Other Posts That You May Like: