This post is all about are stress and anxiety the same.
This post may contain affiliate links, which means I'll receive a commission if you purchase through my link at no extra cost. Please read the full disclosure here.
It can be hard to understand the difference between stress and anxiety. They both feel and seem so similar. Knowing the difference however can be empowering and healing.
In this blog post, you will learn the key differences between them, helping you gain insights and practical strategies.
If you're a woman looking for self-improvement, practical solutions, and holistic health, this blog post is tailored just for you.
Are Stress and Anxiety the Same?
1: Understanding Stress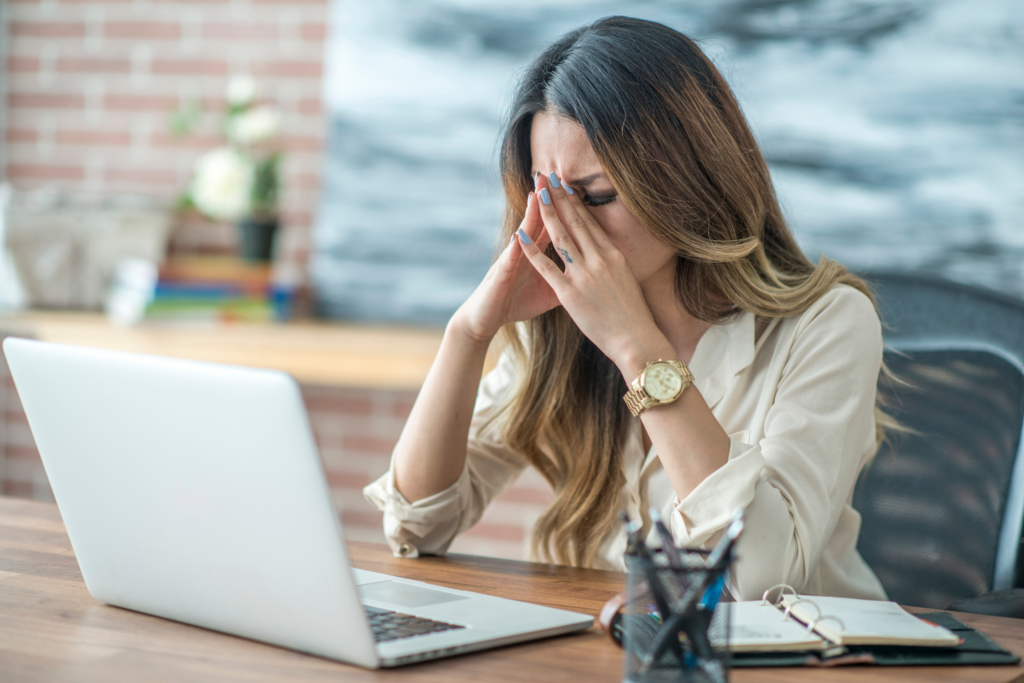 Stress is a word we often hear, but what exactly is it? Stress is the body's natural response to a perceived threat. It can be triggered by various situations such as work pressure, family conflicts, or even a traffic jam on your way to the office.
Stress can be heightened when we are overwhelmed, overworked or have acute crises going on in our lives.
2: The Physiology of Stress
"Over time, repeated activation of the stress response takes a toll on the body. Research suggests that chronic stress contributes to high blood pressure, promotes the formation of artery-clogging deposits, and causes brain changes that may contribute to anxiety, depression, and addiction. More preliminary research suggests that chronic stress may also contribute to obesity, both through direct mechanisms (causing people to eat more) or indirectly (decreasing sleep and exercise)." – Harvard Medical School
Stress is a natural response designed to protect us from perceived threats.
When you encounter a stressful situation, your body undergoes a series of physiological changes to prepare you for the "fight or flight" response:
Adrenaline: Often dubbed the "emergency hormone," adrenaline surges through your bloodstream, boosting your heart rate and elevating blood pressure. These changes provide your body with a sudden burst of energy, enhancing alertness and readiness to confront the perceived threat.
Cortisol: Known as the "stress hormone," cortisol plays a pivotal role in regulating various bodily functions. During a stressful event, cortisol levels rise to mobilise energy reserves, leading to increased blood sugar levels. This, in turn, empowers your muscles for potential action.
Your muscles can tense up, as they prepare for physical exertion during the fight or flight response.
Your senses become notably sharper, enabling you to be more vigilant and responsive to the situation at hand.
Concentration often becomes difficult on tasks unrelated to the source of stress as your body prioritises immediate awareness and response.
3: Identifying Stress Symptoms
How do you recognise when stress is affecting you? Stress symptoms can manifest physically, emotionally, and behaviourally.
Common signs include:
Recognising these symptoms is the first step to managing stress effectively.
4: Coping with Stress
The following are tools you can use anytime to cope with stress:
Deep breathing exercises: Practice deep breathing to calm your body's stress response.
Time management: Implement time management techniques to reduce overwhelming situations.
Exercise: Incorporate regular physical activity into your routine to help alleviate stress.
5: The Lowdown on Anxiety
Anxiety – how does it differ from stress? Anxiety is characterised by excessive worry, fear, and nervousness.
Unlike stress, it often lacks a specific trigger and can linger over a more extended period.
Some people have general anxiety their whole lives and need therapy and medication to control it and live a productive and happy life.
When to see a doctor:
Some anxiety is normal, but see your doctor if:
You feel like you're worrying too much, and it's interfering with your work, relationships or other parts of your life
You feel depressed or irritable, have trouble with drinking or drugs, or have other mental health concerns along with anxiety
If you have suicidal thoughts or behaviours — seek emergency treatment immediately
Understanding this distinction is invaluable for someone looking for accessible information on mental health.
6: Spotting Anxiety Symptoms
Anxiety can present itself in a multitude of ways, both physically and mentally.
Symptoms of anxiety may include:
physical symptoms like sweating and trembling
My anxiety story:
I remember when I was full of anxiety from an emotionally abusive relationship. It was awful. It made me freeze up, I could not think clearly and had physical symptoms like headaches and digestion problems.
I remember not being able to get out of bed to go to work. I physically needed help to get up and get ready for the day. The emotional toll the abuse took affected me so badly. Anxiety was crippling my every move.
I decided to speak to a therapist and doctor. I was able to get on some anti-anxiety medication as well as practicing self-care. These two things together made me feel a whole lot better. I was then able to function at work and in my personal life. I could not believe the difference I felt after focusing on rebuilding myself through self-care and looking after my mind and body. Pharmaceutical and natural therapies can go hand in hand to work wonders for your health. I know it did for me!
Remember that recognising signs of anxiety early on can empower you to take action.
7: Managing Anxiety
Practical solutions for managing anxiety and improving overall mental health can include:
cognitive-behavioural therapy
Limiting sugar and caffeine
Talk it out with a trusted friend
Speaking to a licensed therapist or a doctor
These tools will be invaluable in your journey to manage anxiety, especially if you're someone seeking personal growth and practical strategies.
For everyday self-care finds to reduce the symptoms of anxiety go here.
8: Resources for Deeper Understanding
If you're looking to explore the topic further, here are some valuable resources to consider:
The books: "The Relaxation and Stress Reduction Workbook" by Martha Davis and "When Panic Attacks" by David D. Burns provide in-depth insights into stress and anxiety management.
Support Groups: Join local or online support groups to connect with individuals who share your experiences and challenges.
Final Thoughts
Your mental health determines how happy and successful you will be. Mental health is undervalued and not respected enough. Change that today and seek the help you desire for a happier and more fulfilling life.
Remember, you're not alone, and there's a wealth of information and resources out there to support you. Keep seeking, keep learning, and keep growing. Your mental health deserves it.
This post was all about are stress and anxiety the same.
Other Posts You May Like